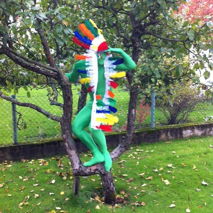 Created By:

Jakthövdingen

Collecting for:
Stadsjakten
Samla in pengar till 2017 års samarbetspartner Hungerprojektet. Förutom en god sak får det lag som samlat in mest pengar i sitt namn fördelar i jakten, samt ett mycket fint överraskningspris.
Donate
Jakthövdingen donated 650 kr
Sara Axelson Sahlén

donated

300 kr

From: SAHLEN OLSSON team in Goteborg stadsjakten. (might change name to Stures ninjor) We love to support social enterprises and believe everyone should have a chance to reach health and happiness.

Sussies Delikatesser

donated

500 kr

Våra fantastiska supportar fortsätter att hjälpa både oss och detta fantastiska projekt. Börjar förvisso tro att dom inte har så höga förväntningar på oss 😂

Sussies Delikatesser

donated

500 kr

Sussies Delikatesser

donated

700 kr

Sussies Delikatesser har världens bästa supportrar. En gemensam insamling till att bra ändamål. Sen tror vi förvisso att anser att vi behöver alla fördelar vi kan få i tävlingen :-)

Mr Jakthövdingen

donated

150 kr

Hungerprojektets utmaning; #livebelowtheline

Woop wokpanna

donated

500 kr

För en god sak. Samt för att ligga i topp av insamlingsligan när det väl vankas fördelar i Stadsjakten!

Jakthövdingen :)

donated

500 kr

Jakthövdingen sätter insamlingen i rullning!